Welcome
2020  Nor by Nor'east Caravan  – Has been Cancelled
This was the last Nor by Nor'east Caravan
NOR' BY NOR' EAST CARAVAN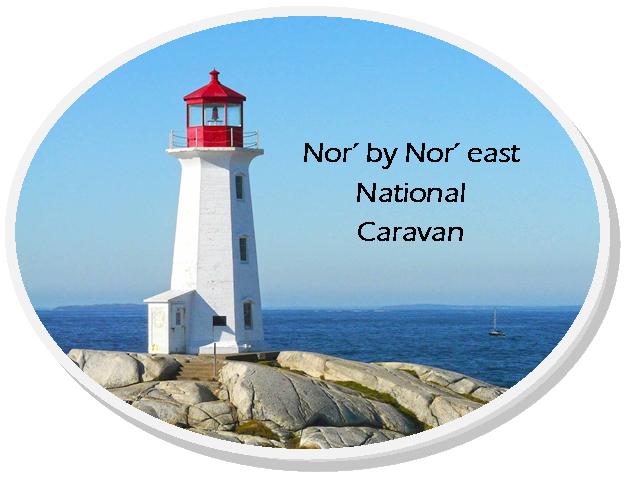 The Nor' By Nor 'east National Caravan will rendezvous in Rhode Island and end in Cornwall, PEI, Canada.  Visiting historical New England, Canada's Maritime provinces and sampling lots of food specialties from the waters off the coast is our intention.
We rendezvous in Ashaway, RI, near three seaside communities in Connecticut; Mystic Seaport, Groton and New London.  These towns offer a look at the history of old and young maritime life. Just up the road, Newport, RI offers a view into how the very rich enjoyed their summer "cottages".
Our second stop is America's hometown & birthplace.  Plymouth offers 400 years of history with the famous Plymouth Rock, Monument to the Forefathers, Mayflower II,  and a community living in period conditions called "Plimoth" Plantation.  Free time to tour Cape Cod on your own is available.
We will make a stop just north of Boston and commute by tour bus into this bustling capital city where we'll walk in the footsteps of Paul Revere, tour the Bunker Hill Monument, and visit the JFK Library.  The shots heard around the world happened in Concord and Lexington; these towns are within driving distance from our campsites at the Topsfield Fairgrounds.  A trip to Gloucester on a whale-watching boat winds up our visit to this area.
It's off to Searsport, ME where we'll camp next to the Atlantic Ocean in a gorgeous small town setting steeped with ship-building history and a real Food Channel approved "Down East Lobster Bake" under the tent on the shores of Penobscot Bay.  The Penobscot Narrows Bridge, Fort Knox and the Penobscot Marine Museum round out some of the fun we'll have here.
Just up the road is Bar Harbor where we will experience how some of the residents live among the dozens of coves and islands that are surrounded by sailing and motor yachts.  Our campground, although located in Trenton, is near lots of shopping where we can "re-stock" the Airstreams.  A trolley tour, leaving from our campground, of Acadia National Park  is one of the highlights of this stop.
We'll cross into New Brunswick, Canada and cross the FDR Memorial Bridge to Campobello Island.  It is here where Franklin and Eleanor Roosevelt spent their summers.  A group "Tea with Eleanor" is planned. We will stay at the Herring Cove Provincial Park.
As we progress along this craggy coastline of the Bay of Fundy, we will stop to see the world's most exaggerated tides at the Hopewell Rocks.  Views of the Bay of Fundy are best visible from the shoreline roads leading to Cape Enrage and the town of Alma.
Our caravan will cross to the eastern-most shore to Halifax, Nova Scotia which will be our home base as we tour colorful Peggy's Cove and historical Halifax.  Wine country is just a short drive away where there are lots of opportunities for sampling, etc.
In Louisbourg, we will camp at the Riverdale RV park.  We will, of course, tour the largest reconstruction project of a fort in North America.  A fun night will be had at the Beggar's Banquet where everyone will be asked to dress in 1700's garb in order to attend.
A short drive to Baddeck on Cape Breton Island is our final stop in Nova Scotia.  This will be our home base as we enjoy a drive around the magnificent coast on the Cabot Trail.  There are many other places of outstanding beauty in this area and we'll take the time to see it all.
The last and final stop is Prince Edward Island. But, once you're on PEI, you will think you're in Heaven.  We have plenty of time here for exploring and enjoying the musical, Anne of Green Gables in Charlottetown, the warm waters along some of the most beautiful beaches as well as seafood-PEI style.  We will have our Farewell Banquet in Charlottetown at the Delta Hotel.
There is ample opportunity to see many sights on your own.  Free time is available so you can enjoy biking, fishing, hiking, etc.
Leaders:  Trevor & Gale Lake, #4688
Trevor Cell:  781-264-4550  –  Gale Cell:  781-724-6296
E-mail:  trevorlake@verizon.net
Rendezvous:  July 8, 2020
Total Nights:  41      Number of Stops:  11
Kitty Fee w/2 in a rig:  #3,900.00
– Additional person in rig/$1,000.00  (U.S. funds only)
Kitty Fee w/1 in a rig:  $2,900.00    (U.S. funds only)
Make checks payable to:  WBCCI, Inc.
Mail checks to:  Trevor Lake, 315 Oak Street, Marshfield, MA  02050
Deposit of $200 with application
Second Payment of $800 by February 1, 2019
Final Payment on May 1, 2019
Cancellation Fee:  $100 before February 1, 2019
Cancellation Fee:  Leaders discretion after February 1, 2019
Payment Info:  See "Sign up Now" on the Menu
 
Trevor & Gale Lake, Leaders